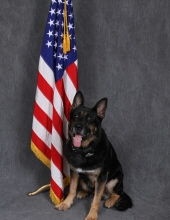 April 8, 2008 ~ July 21, 2019
Retired Police K9, Bolo, was called to his eternal home on Sunday, July 21st. This was a day that we hoped would never come. To say that Bolo was a part of our family sounds cliche, but he was truly our family. In fact he was part of many families. Before the Wall family was blessed with Bolo, he worked with G4 Security under a US Military contract were he served our great country well. The completion of that career came with many scars as he served along side his Handler in Afghanistan. Then, Bolo served as a training dog, to help demo and train other working dogs. After that, Bolo joined the Live Oak Police family, where he served along side David as a narcotics, evidence recovery, handler protection and patrol dog. During his career at LOPD, Bolo assisted the Randolph Metro SWAT team, the DEA, the US Marshals and other local narcotics units. He was well known and loved by the local Live Oak community. After retiring from LOPD Bolo joined the Wall family (full time). God knew what he was doing when he joined Bolo to our family. We, as well as all 5 of our kids, welcomed Bolo with open arms and he was a perfect fit. Bolo loved to work when it was time to work, but he also loved being a "dog" when he was home. If you know any of the details of his career, you know that Bolo had some impressive stats. He took millions of dollars (in drugs and seizures) off the streets, even after having a toe removed because of cancer. But, the truth is, he served ALL of his families well! Bolo is survived by a family that will miss him greatly. He was certainly one of a kind and could never be replaced.
The Wall family would especially like to thank Kitty Hawk Animal Hospital and Dr. Amie Hooper for taking such amazing care of Bolo, and our family.
– David and Shannon Wall
Memories Timeline
Sign the Guestbook, Light a Candle