Boss Wheless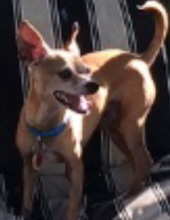 January 1, 2005 ~ September 6, 2019
Boss was adopted in September 2011 from Austin Pets alive as a comfort companion after my fathers passing and he guided me through a severe large dog attack that left me afraid of dogs. The shelter said they thought he was about 5-7 years old at the time they rescued him. Making him about 14 at the time of his passing.
The only thing anyone really knew about Boss was he was hours away from euthanasia and we really did save each other.
He was always friendly and I believe grateful for everything. He would look back as to thank me for his beloved treats and an occasional small toy or even on his outings.
He loved more than anything to roam the outer perimeter of his property leaving his notes and only twice did I ever see him go beyond and he was genuinely afraid once he realized what he'd just done.
He loved to go anywhere and everywhere but, especially to Petco or Petsmart and to visit his cousins, Toto, Diamond, Sasha and even Minnie Kitty until her passing in 2019. Even a short trip to the gas station was special.
He was loving and treated as a best friend by his large feline family unless of course, they were too nosey about his treat. He wasn't big on dinner but, large on snackies. He never really cared if someone else ate his dinner.
Birdie was his first true friend and to hear them sing together was both heart warming and hilarious.
He made friends easily and loved to wrestle and run in spite of his bad knees.
He would look for his neighbor rottweiler girlfriend to run the fence line every day and long after she moved he'd still check for her. He loved to go sneak a visit to his next door girlfriend's house for visits and play "hide a snack" with his girlfriend Chloe.
Boss comforted, loved and mentored his adopted and now heartbroken best buddy Copper, a rescue chihuahua mix along with just about any, especially orphans and the divorced.
Boss had so many human friends because, well he demanded it. He seemed to say "you are my friend".
Boss aways appeared healthy, even when his arthritis and bad knees we're hurting so bad he'd stay under the covers all day or watching TV, the video surveillance or just out a window. He was otherwise energetic and playful right up to a few hours before he passed.
It came so suddenly.
On Friday I came home from an outing and Boss greeted me and appeared fine and happy until a very sudden upset stomach. I had time to make him his favorite rice for dinner he did not eat and within a very few hours, he was gone.
I held him for his passing with Copper dog and Handsome cat by his side. I told him about my family and friends on the other side of the Rainbow Bridge and he listened and smiled, looked at me as if he was saying he would give them my love, not to worry.
Bossy my love, you were truly bigger than life and my best friend.
Boss, aka (Bossy and sometimes Taco) had no children himself but is survived by many family and friends that will greatly miss him.
Memories Timeline
---