Bree Johnson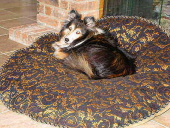 To Our Sweet, Beautiful Baby Girl,
Bree, we first met and fell in love with you at the Houston Sheltie Sanctuary picnic on a beautiful Fall day in October, 2006. We took you home to Corpus that afternoon. You slept all the way home. We soon found out that taking you in the car was like a sleeping pill to you. When we moved to San Antonio, you slept all the way here.
We can truly say you were the most gentle, kind soul. You would look at us with those beautiful brown eyes with such love and devotion. We have had many pets and all of them were loved, but we have never loved anyone like we loved you. Your Daddy said you were our gift from God.
The house is so empty without you and our hearts are broken. We miss you so much and Haley and Harley miss you too. Our lives will never be the same. We miss your WOO-WOO! You always made us laugh.
As hard as it is and our time was short, we feel blessed that we had you in our lives. We cannot imagine not having the honor to have been your parents.
We love you baby girl!
Mommy & Daddy
"Solace "
From the silence of your pain, I heard my name, and on the wings of light I have come to see the sadness in your eyes that cry without tears.
Can you see me? I am here; I will always be near you to calm your shattered heart and to make you smile at the memories.
Do you feel me? Perhaps a soft brush of fur; You ache to believe it's real, But you are afraid to hope. You brush away a strand of hair, But it was I, whispering . . . .
I am only here for but a moment; The silver thread gently quivers; I will leave behind my love in a dream When you awaken, and without really knowing why,
Your heart will know at last That it was all right, for now To say good-bye.
Funeral Home:
All Paws Great and Small Crematory
5611 E. Houston St.
San Antonio, TX
US 78220
Memories Timeline
---