Lightning Salas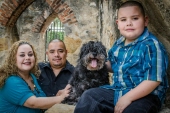 August 7, 1998 ~ April 28, 2014
It is with a heavy heart that we announce the passing of our beloved Lightning. He left us on April 28th, 2014 @ 6:50 p.m. Lightning was born in San Antonio, TX on August 7th, 1998. We bought him at the young age of 2 months and we were blessed to have him in our family for 15 wonderful years. We had many nicknames for him (Punkin, Mamas sunshine, Precioso). He answered to all of them. He was definitely a mamas boy. He was the BEST big brother to our son. From the day we brought him home from the hospital as a newborn Lightning protected him with all he had. Lightning loved to take rides in the car with us and just enjoy family time. He was spoiled and loved every bit of it. He was our 1st furry baby. If anybody was looking for me, his mama they knew to just follow Lightning and they would find me. He was my shadow. I'd lose at hide & seek all the time because Lightning would always give me away. Lightning was Always 1st to test Daddy's BBQ. His favorite was daddy's brisket. He already knew he would be the one to give his OKAY! Every year on his Birthday Daddy would cook him a steak. Lightning is deeply missed and we thank you for 15 AWESOME years punkin!! We would like to thank Towne North Animal Hospital for always showing our baby love and always taking good care of him throughout the years. We always knew he was in good hands with your staff.
We love & miss you bunches punkin and our home will never be the same without you! I still hear you walking in the hallway and sniffing under the door looking for me…. I'm right here baby boy!!! We will see you when we cross the Rainbow Bridge!♡
Lightning is survived by his Mama (Mari Salas) his Daddy (Alex Salas) and his one & only brother (Adrian Alex Salas) and many friends & relatives who love him dearly!!
Funeral Home:
All Paws Great and Small Crematory
5611 E. Houston St.
San Antonio, TX
US 78220
Memories Timeline
---